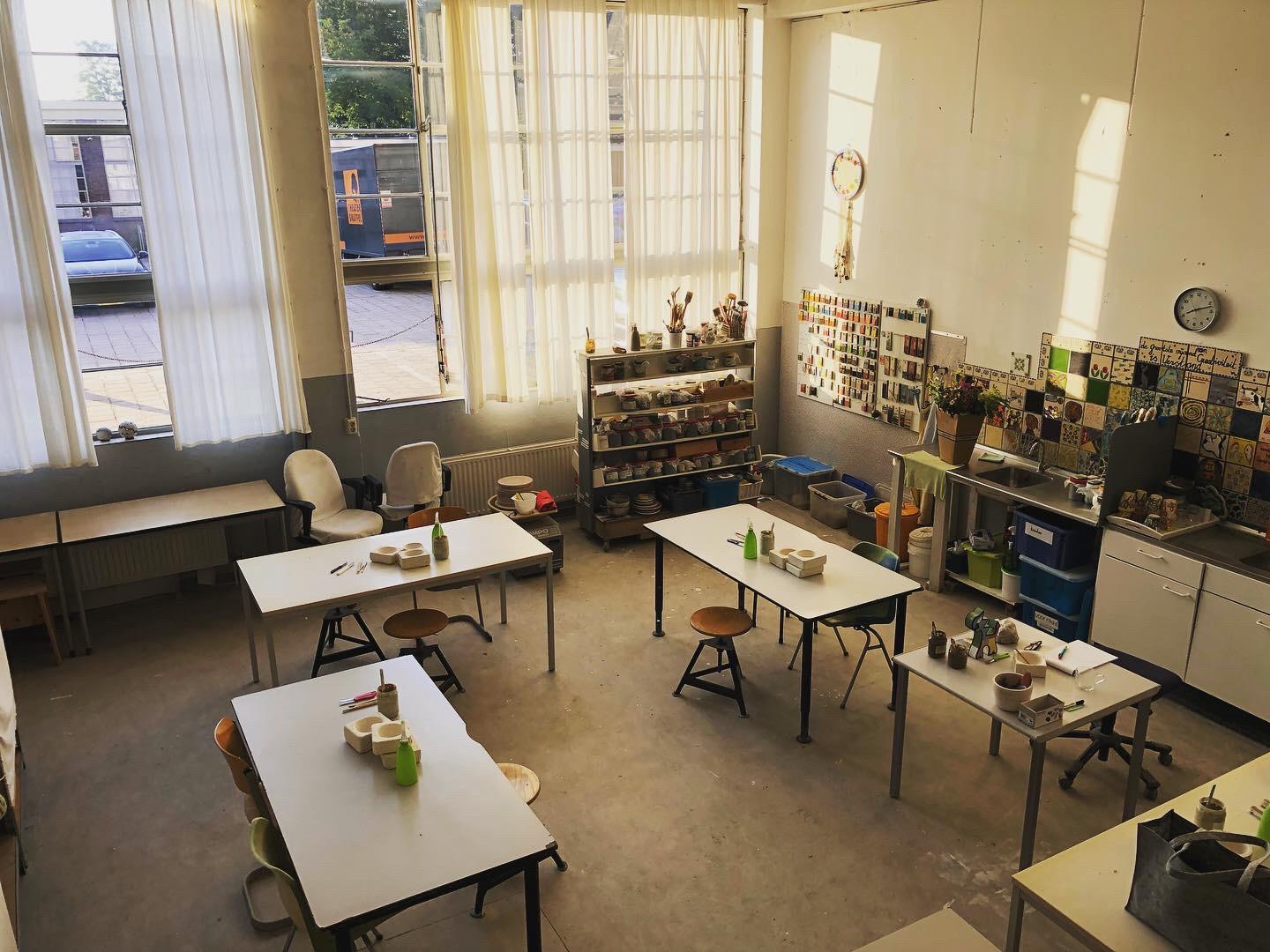 2 daagse workshop in juni
Dag 1: zaterdag 3 juni van 10.00-15.30 uur
Na ontvangst met koffie en thee geef ik een korte uitleg over klei en de vele mogelijkheden. Hierbij leg ik ook verschillende technieken uit zoals opbouwen uit ringen, werken met platen klei en het gebruik van mallen. Tijdens deze workshop werk je vrij, je mag een laten inspireren door een voorbeeld of je eigen ontwerp uitwerken. Denk hierbij aan (fruit)schalen, dier/mensfiguren, vrije vormen of vazen.
Na de uitleg bepreek ik samen met je wat voor werkstuk je wil maken en daarna ga je met de handen in de klei!
Tijdens de workshop kijk ik mee, geef ik begeleiding, tips & tricks, zodat je aan het einde van de dag een werkstuk hebt waar je trots op bent.
Dag 2: dinsdagavond 27 juni van 19.00-21.30 uur
Deze avond staat in het teken van glazuren. Je werkstuk is nu 1x gebakken op 900*C, de bisquit stook.
De duur van deze avond hangt af van de grootte van je werk, maar ook hoe je het werkstuk wil glazuren. Tijdens de eerste dag hebben we verschillende soorten glazuur en glazuurtechnieken dan al besproken.
Als je werkstuk klaar is, bak ik het nog een keer en geef ik je een seintje wanneer je het werkstuk kan komen ophalen.
Wat moet je meenemen?
* lunch
* schort
* werkstuk ideeën, evt. voorbeelden geprint
Ideeën nodig?
Op mijn Facebookpagina en Instagram vind je foto's van werkstukken gemaakt tijdens workshops en de cursussen.
Kosten
De kosten voor deze 2 daagse workshop zijn €100,00 p.p. Dit is inclusief materialen, 2x bakken, glazuren, koffie/thee en wat lekkers.